Our Word of the Week this week is
YOUTH
33rd week of Ordinary Time
On the feast of Christ the King, every year, the Church focuses on its young people and celebrates everything that you bring to the world. Youth is not just about age however – it's about our attitude. Anyone can be youthful if they fill their lives with joy and excitement. National Youth Funday (on Friday this week) is a chance to recognise and celebrate what young people bring to the Church of today.
Throughout our resources this week we will explore the lives of four Saints who are important examples of what can be done, even when we are young, to glorify God. Their lives inspire us to be more like them and to remember that, with God before us, nothing can stop us!
In view of all this, what can we say? If God is for us, who can be against us?

Romans 8:31 GNT
Think this week about what it's like to being a young person in today's world – is it easy?
What difference can you make to the world around you?
Scripture Bank
If you would like to reflect on some more of the scriptures related to this topic then you can use some of the scripture references below.
Most of these are taken from Open Bible – you can use their Topical Bible Search facility to find lots more ideas! Just remember to change the Bible translation to 'Good News Translation' when you click on the link!
If you have found any pieces of scripture that you think link to our theme this week then please add them in the comments box below to share the Good News so that we can all enjoy them!
St Bernadette Soubirous
In a week where we are reflecting on the young people who have made a difference to our faith and to the world we live in then we, as the Our Lady of Lourdes Catholic Multi Academy Trust, couldn't possibly miss out St Bernadette Soubirous!
St Bernadette wasn't just a young girl she was also very poor and uneducated. When she told people that a beautiful lady had appeared to her no one would believe her because she was just 14 years old and had no wealth or education. In fact, St Bernadette and her family were so poor that at one point they had to live in the old prison in Lourdes – a place that was judged to be too horrible even for prisoners!
Only when St Bernadette told the people that the beautiful lady, who was holding a rosary and had roses on her feet, had told her that she was 'the Immaculate Conception' did they finally start to believe what St Bernadette was telling them and now millions of people visits Lourdes on pilgrimage every year to see the place where Our Lady – Mary, the Mother of Jesus who said yes to God at a very young age too – appeared.
St Bernadette saw Mary appear in Lourdes, at a place called 'The Grotto', 18 times. St Bernadette joined the Sisters of Charity of Nevers when she was 22 years old and spent the rest of her life praying for sinners, serving as a sacristan, and helping out in the infirmary (where those who are ill are cared for).
When the Angel Gabriel appeared to Mary and told her that she would be the Mother of God she replied with these words:
"I am the Lord's servant," said Mary; "may it happen to me as you have said."

Luke 1: 38 GNT
St Bernadette followed the example of Our Lady by being brave enough to tell others of the incredible visions that she has seen and later said:
"I was nothing and of this nothing God made something great."
Think about the things that God asks of you and challenges you to do.
Do you feel like you are important and worthy of the things that God has called you to do?
Do you place your life into God's hands as his servant and say yes to God's will?
Do you trust that God will make something great from your life?
Take some time to think about how you can be like Our Lady and St Bernadette and can be an inspiring young person who is brave and makes a difference to our world today.
We offer up all of our challenges as we say our Trust Prayer together:
Saint Aloysius Gonzaga
The Loyola Press Website has shared the story of Saint Aloysius Gonzaga (originally from Saints and Feast Days, by Sisters of Notre Dame of Chardon, Ohio) for us all to enjoy. Read his story below and think about the plans for you!
Do your parents have plans for you? As soon as Aloysius was born, his parents began planning for his future. His mother wanted him to be a priest. His father was determined to have his oldest son become a military leader or famous political figure—anything but a priest.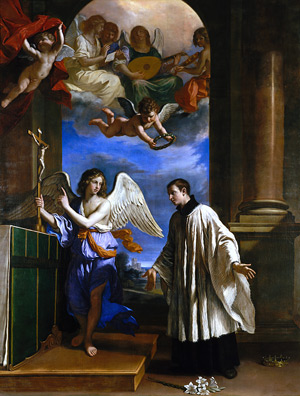 At the age of five, Aloysius was sent to a military camp to get started on his career. His father must have been very pleased to see his son marching at the head of the platoon of soldiers around the campgrounds… At the age of seven, Aloysius received a special insight from God. While other boys were dreaming about being military heroes or heads of wealthy estates, Aloysius thought of other matters. He decided to become a saint, and he began acting on that decision. He prayed long hours at night and fasted several times a week.
While he was on a visit to Spain with his parents, Aloysius read the lives of saintly Jesuit missionaries, and he decided to become a Jesuit. His father and some other relatives tried hard to change his mind. It was a fierce battle of wills, but after several years, Aloysius won. With his father's permission, Aloysius gave his large inheritance to his brother and joined the Jesuit order at 17 years of age. The novice director, who was in charge of training Aloysius, told him to cut down on his long hours of prayer and to give up some of his fasting and other penances. Aloysius obeyed willingly. He understood that obedience was better than "doing his own thing."
When Aloysius was 23, a serious epidemic broke out in Rome. Aloysius volunteered at once to help in the hospital. At that time hospitals were not the clean, orderly places with which we are familiar today. It was very easy to catch an illness. That is what happened; Aloysius became very ill. No medicine could help him. Aloysius was not afraid to die.
Aloysius shows that young people are not too young to become saints. During his life he had focused on doing what God wanted—serving and loving God and his neighbour.
Although St Aloysius' feast day is celebrated on the 21st June we are remembering him this week because he is the patron Saint of Youth! He is also a great inspiration during the pandemic because he was not afraid to serve others in their time of illness and need.
Have your parents or family got plans for you in your life?
Have you thought about what you would like to do in your life?
Do you think that St Aloysius did the right thing by following his own path?
Are there times when you feel too young for the tasks that you face? How do you show courage by doing these things anyway?
When someone is sick, how do you respond?
We ask St Aloysius Gonzaga to pray for us. May we be inspired by his example of dedication to God and to the service of God's people so that we too can be Saints.
We pray that we will know the right way to help and support people when they are ill so they can feel God's love for them.
Amen.
St Aloysius Gonzaga, pray for us.
Weds 17th Nov - Feast of St Hugh of Lincoln
Let's start by learning some facts about today's Saint! This NDCYS video was filmed in 2018 (before we'd heard of lockdowns!) – maybe you and your classmates will be on retreat at The Briars soon making videos just like this one??
St Hugh of Lincoln (along with Our Lady) is one of the patron Saints of the Nottingham Diocese.  In 1186 he was ordained as The Bishop of Lincoln. The bishop showed deep sympathy for the sick. He regularly visited the leper hospital in his diocese and did not shrink from the touch of those suffering the dreaded disease. He was especially attentive to the burial of the dead, at a time when those who had died were often neglected.
His caring nature is what made him patron of sick people and patron of sick children.
Today we celebrate the Feast of St Hugh of Lincoln by remembering in prayer those who are sick, particularly any children who are sick.
Let's take a few moments in silence thinking about those people who need our prayers and who we pray will be comforted by God in their time of illness.
We remember in our prayers today all people who are ill, particularly those children who are not well.
Just like St Hugh, who fearlessly held the hand of those who were unwell, may we all find a way to support those who are in need. We ask God to comfort them and their families during this difficult time.
Amen.
St Hugh of Lincoln, pray for us.
St Thérèse of Lisieux
St Thérèse of Lisieux is an incredible Saint. She died young, aged only 24, but she left us an inspirational example during her short life.
At the age of 13 Thérèse decided that she was going to try to always put herself last, with God and other people coming first.
Thérèse was a dedicated and committed Carmelite nun, working hard in the community, devoting herself to prayer and study of Scripture, especially the gospels. This inspired her "little way" – a simple and practical spirituality, within reach of everyone, based on living the gospel in everyday life and  actions. It is a challenge to witness to gospel values not in dramatic ways, but simply in our everyday circumstances.
Thérèse understood the message of the gospel as a call to love, and in her writing she states, "My vocation is love… in the heart of the Church".
Her message is clear – Christian discipleship involves reaching out in love and behaving with love towards all people and in every situation. She saw her vocation of love as all-inclusive and part of everyday Christian living.
You can find out more about St Thérèse of Lisieux by reading this CAFOD Prayer Card all about her!
Thérèse said many powerful and inspiring things. Spend some time reflecting on the quotes below (click on them to make them larger and use the arrows below to scroll through them all) and think about how they might relate to you in your life.
Discuss what St Thérèse meant when she said these things.
Can you follow the same 'Little Way' as St Thérèse?
Can you do more to put God first in your life?