Relationships can be really tricky to manage. There's so many different types of relationships, and balancing them all with everything else that we need to do in our daily lives can be difficult. In the Bible we often hear about showing love to others and to God, and this is where our relationships should be rooted. This week we're going to explore relationships in a bit more depth, and not just the stereotypical "romantic" relationships but our deeper relationships of friendship and family.
Notices
The Sixth Form Open Evening is taking place on Thursday.
Have a great half term holiday everyone!
We start with the Sign of the Cross.
We end by making the Sign of the Cross.
We start with the Sign of the Cross.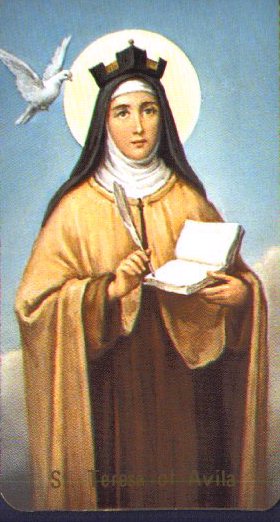 Today is the feast day of St Teresa of Avila. She had a really interesting life, spending a lot of time in doubt and worry, unsure of what path to take. When she was young she struggled to balance her relationships with her Father and her Mother. Her father was an incredibly honest and pious man, who always taught his children not to lie. Her mother loved romantic novels, but her husband objected to these so she hid them from him. Teresa loved these novels too, but her mother told her not to tell her father that she had them. Teresa really struggled with this, should she tell her father and not lie or should she keep her promise to her mother? This is just one example of her trying to juggle her two very different relationships.
Have you ever had a time when you have had two conflicting relationships?
How do you manage your relationships and stress?
We end with the Sign of the Cross.
We start with the Sign of the Cross.
Today we're doing an OLOL Quiz! We are all part of one trust and we should have a good relationship between us all. However, how well do we know each other? Answer the questions below and on Friday you'll find out if they're right!
(For the purpose of this quiz, All Saint's is AS, The Becket is TB, Trinity is TR and Christ the King is CTK.)
1.) Where is TB located?    Aspley, Woodborough, Wilford or Edwalton?
2.) What is CTK's new hashtag/mission statement? #CTKCares, #CTKCommunity, #CTK50 or #CTKOLOL?
3.) Who is the current school chaplain at AS? Vicki, Issie, Joe or Tom B?
4.) What years do TR go to the Briars (excl. sixth form)? 9 and 11, 8 and 10, 7 and 11?
5.) What are CTK's school colours? Blue and Black, Black and Yellow, Red and Green or Green and Yellow?
6.) How many years ago did the first year start at the new TB site? 7 years, 22 years, 9 years or 13 years?
7.) What is the name of the Parish Church down the road from TR? Our Lady's, St Mary's, St Teresa's or Sacred Heart?
8.) When is AS's feast day celebrated? 30th September, 1st November, 23rd May or 25th December?
9.) Can you name the headteachers of all four schools? (Executive headteachers included!)
10.) Who is the CEO responsible for the whole trust, and what does OLOL stand for?
We end with the Sign of the Cross.
We start with the Sign of the Cross.
Today we're going to spend some time in quiet reflection. It can be hard to find time in the week to just think about what is going on, and this time is a good opportunity to just take a step back and think.  Play the video clip below and listen to the whole song. Whilst you do, spend some time thinking about the questions below.
What is your relationship like with God? What words come to mind when you first think of Him?
Do you ever struggle to maintain your relationships? What do you think you could do to try and make them better?
We end with the Sign of the Cross.
We start with the Sign of the Cross.
As always we take time in our week to listen to Sunday's Gospel.
See below for the answers from the quiz midweek:
Wilford, #CTKCares, Vicki, 9 and 11, Black and Yellow, 9 years, St Teresa's, 1st November, The heads are: Mr Greig, Mrs Love, Mrs Farrell, Mr Shenton and Mr Cuomo (executive headteacher of AS and CTK.), The CEO is Mr McGeachie and OLOL stands for Our Lady of Lourdes. Let us know in the comments below what you scored!
We end with the Sign of the Cross.