On Sunday we celebrated the feast of the Most Holy Trinity which celebrates God in three persons. We are called to show reverence and respect for God the Father, God the Son and God the Holy Spirit at all times and we can do this in many ways. One basic way is by following the second of the Ten Commandments and never talking about God disrespectfully but we may also show reverence through prayer and the way that we behave. Make an effort this week to be reverent and to show respect to God and to your faith.
Notices
Sunday is the Lourdes Preparation Day here at The Becket for all students going to Lourdes
Remember to support your House by completing the Sports Day entry forms and making sure that you have a competitor for every event – all entries win points so it really is the taking part that counts!
There is a Lourdes meeting for all students going to Lourdes at 12:15 in the Chapel on Wednesday
We start with the Sign of the Cross.
We end by making the Sign of the Cross.
We start with the Sign of the Cross.
Everyday we use the sign of the cross but do we understand it's significance and why it is an important sign of reverence?
When we make the sign of the cross we show reverence to all 3 persons of the Trinity:
As we touch our head we remember God the Father and recognise that we began as just a thought in God's head.
As we touch our hearts we remember God the Son and recall how He has taught us to love others.
As we touch our shoulders we remember God the Holy Spirit and realise that, in everything we do we are carried on the shoulders of the Holy Spirit and are not alone.
Finally, as we join our hands at the end and say 'Amen' we show our belief and reverence for the Holy Trinity – one God in 3 persons and this helps us to enter into prayer, or the next part of our day, remembering that we are not alone and that we are loved.
As we end our Act of Worship today, make the sign of the cross more slowly and really think about the way in which you show reverence to God through this small act. 
We end with the Sign of the Cross.
We start with the Sign of the Cross.  
Some of the people that we have great reverence and respect for within The Becket School community are our House patrons:
St Bernadette
St Edmund Campion
Blessed Nicholas Garlick
St Patrick
Blessed Robert Ludlam
St Teresa of Liseux
These 6 holy men and women give us a fantastic example of lives lived with reverence and devotion to God and are our inspiration when we think about our values within our community.
In the letter to the Hebrews we are given this message from God:
As for us, we have this large crowd of witnesses around us. So then, let us rid ourselves of everything that gets in the way, and of the sin which holds on to us so tightly, and let us run with determination the race that lies before us. Let us keep our eyes fixed on Jesus, on whom our faith depends from beginning to end. He did not give up because of the cross! On the contrary, because of the joy that was waiting for him, he thought nothing of the disgrace of dying on the cross, and he is now seated at the right side of God's throne.

Hebrews 12: 1-2
In just a couple of weeks we will gather as a community to witness the biggest sporting event of the year – Sports Day! It will be a chance to represent your House by competing in the events and will give us an opportunity to follow the words of the scripture and to cast off anything that might usually hold us back from being the best that we can be.
As your prayer today think as a form how you can be the best representatives of your House and your House patron by:
completing your Sports Day entry Form
reading and reflecting on the life of your House patron (information can be found at the front of your planners) and coming up with slogans of encouragement that you can use for competitors from your House. These can then be submitted to Heads of House and House Captains
thinking about what items you will bring to Sports Day to show your House colours
thinking about whether anyone in your form would be interested in being a journalist for your House on the day so you can record and report on the progress of your House during the big event! Anyone who is interested should see Mr Marlow to register their interest.
Let us pray,
Help us Lord to be brave and to put ourselves forward to represent and to celebrate our House community. May we follow the example of our school patron, St Thomas Becket, who never grew weary of doing what was right and stood up for his beliefs until the very end.

Amen.
We end with the Sign of the Cross.
We start with the Sign of the Cross.  
We are now in the season of Ordinary Time so make sure that your Liturgical Colours poster is up to date and is pointing at the green section in June!
Even though we call this period in the Church's calendar 'Ordinary Time' it doesn't make it any less important than the other seasons. Instead it is an opportunity to focus on the readings and to celebrate the many special feast days that occur over the next few months.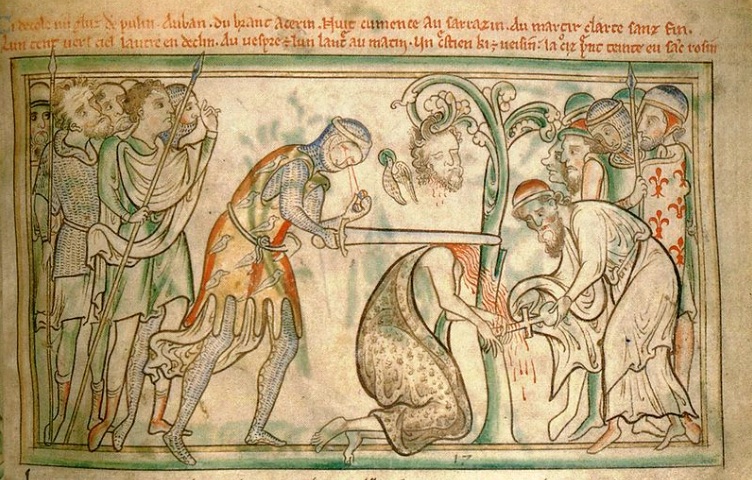 Today's feast day is of Saint Alban who was the very first English Martyr and is therefore known as 'Proto-martyr of England'. In the 3rd Century Alban hid a priest at his home and when the Prince found out he sent soldiers to arrest the priest. Instead, Alban dressed up as the priest to protect him and was arrested and was later beheaded for his refusal to worship the Roman gods. St Alban was such an inspiration that there is an area north of London that is named after him and there have been many miracles reported at the site of his death where St Alban's Church stands.
Just as reverence was shown to St Alban by naming an area after him we show reverence to our House Patrons and, of course, to St Thomas Becket who is our school patron. 
Using the comments box below and discuss and comment on the ways in which the life of St Thomas Becket inspires our school community.
What values do we focus on that we share with St Thomas Becket?
How does our Mission Statement help us to follow the example of St Thomas Becket?
Mission Statement
The Becket is a Catholic school. Our mission is to work in partnership with parents and carers to provide an outstanding Catholic education for all our young people. This means:
inspiring and motivating young people to achieve their full potential academically, spiritually, socially and in a full range of extra-curricular activities
helping young people to grow in the love and knowledge of Jesus Christ
developing in young people a deep knowledge and understanding of the Catholic faith
practising Gospel values, such as forgiveness and helping those in need, within our school community and in society as a whole.
We end with the Sign of the Cross.
We start with the Sign of the Cross.
As always we take time in our week to listen to Sunday's Gospel.
We end with the Sign of the Cross.