On Monday 11th February we celebrate the patron of our Catholic Multi-Academy Trust: Our Lady of Lourdes!
Below you can find various resources that will hopefully assist you in planning activities for your school community for that day/ throughout that week.
Who is Our Lady of Lourdes?
Who is Our Lady of Lourdes?
Mary, The Immaculate Conception
The Our Lady of Lourdes CMAT Launch Event – October 2018
If you'd like to reminisce on the last time we gathered together as a community then why not share this video from NDCYS who have provided a summary of the day!
The Word
The Readings for the Feast of Our Lady of Lourdes are:
First Reading: Isaiah 66: 10-14
Responsorial Psalm: You are the highest honour of our race!
May you be blessed, my daughter, by God Most High, beyond all women on earth; and may the Lord God be blessed, the Creator of heaven and earth. R/
The trust you have shown shall not pass from the memories of men, but shall ever remind them of the power of God. R/
Gospel Acclamation: Alleluia, Alleluia! Blessed are you, Virgin Mary, who believed that the promise made you by the Lord would be fulfilled. Alleluia!
Gospel: John 2: 1-11
Marian Music
This video takes images from around Lourdes against an instrumental track of the Marian hymn 'Immaculate Mary' – see below for the lyrics
This tutorial may help your community to learn a song that reminds us to open our hearts to God's call, just as Mary did and later as St Bernadette did also.
>>> ERROR: Contact the Administrator to see this content <<<
Lourdes LIVE
There is a live stream from Lourdes 24 hours a day so tune in and see what's happening at the grotto on the week of our feast day! You can use this link or simply search for 'Lourdes Live Stream' and there are lots of different websites that you can use.
World Day for the Sick - Monday 11th February 2019
Monday 11th February is also the World Day for the Sick in 2019. It was introduced by Pope John Paul II as a way for believers to offer prayers for those suffering from illnesses. The day coincides with the commemoration of Our Lady of Lourdes and is an important opportunity for those who serve in Catholic health ministry to reflect on caring for those who are sick as well as those who provide care to them.
Message from Pope Francis
These quotes are taken from Pope Francis' address on the feast of Christ the King in 2018 which advise those preparing for the 27th World Day of the Sick in 2019:
"On the XXVII World Day of the Sick, to be solemnly celebrated on 11 February 2019 in Calcutta, India, the Church – as a Mother to all her children, especially the infirm – reminds us that generous gestures like that of the Good Samaritan are the most credible means of evangelization. Caring for the sick requires professionalism, tenderness, straightforward and simple gestures freely given, like a caress that makes others feel loved."
"We know that health is relational, dependent on interaction with others, and requiring trust, friendship and solidarity. It is a treasure that can be enjoyed fully only when it is shared. The joy of generous giving is a barometer of the health of a Christian.
I entrust all of you to Mary, Salus Infirmorum. May she help us to share the gifts we have received in the spirit of dialogue and mutual acceptance, to live as brothers and sisters attentive to each other's needs, to give from a generous heart, and to learn the joy of selfless service to others. With great affection, I assure you of my closeness in prayer, and to all I cordially impart my Apostolic Blessing.
Vatican City, 25 November 2018
Solemnity of our Lord Jesus Christ, King of the Universe."
2019 Prayer for the Sick
God of strength and compassion,
hear the prayer that arises from our hearts
as we join our lives with your Son
in His most sacred passion.
Be with us in the Garden of Gethsemane
as we acknowledge the suffering
within our bodies, our minds, our hearts,
that is as yet hidden from others' eyes.
Be with us at Gabbatha,
the Judgement Seat,
as we hear the reports
that spell out our future,
or even the loss thereof.
Be with us at Golgatha
as, in faith, we join
our suffering, our pain, to His.
Hear us as we surrender
our lives to your loving protection,
guidance, strength, and peace.
It is into your hands, O Lord,
that we commend our spirits.
Hear us, O Lord,
and have mercy.
Prayers
Trust Prayer
God Our Father,
Give us strength so that, guided by Our Lady's example,
we can have the courage to say yes to you.
Help us to love like she loved, have faith like she had
and follow Jesus' example in all that we do.
Inspire in all of us a sense of togetherness, so that we can use
the gifts you have given us for the good of all in our community
and bring support and healing to those less fortunate than ourselves.
We ask Our Lady to guide us, just as she guided St Bernadette,
as we seek to bring Jesus' message of love
and forgiveness to others.
We ask this through Jesus Christ, your Son, Our Lord.
Amen
Our Lady of Lourdes, pray for us.
Feast Day prayer from the Roman Missal:
Grant us, O merciful God, protection in our weakness,

that we, who keep the Memorial of the Immaculate Mother of God,

may, with the help of her intercession,

rise up from our iniquities.

Through our Lord Jesus Christ, your Son,

who lives and reigns with you in the unity of the Holy Spirit, one God, for ever and ever.

Amen
Your students may wish to create their own intercessions for Mass or prayers to share during Liturgies and Acts of Worship. The templates and guides below will help in the preparation of these prayers but you may wish to consider the following themes:
Prayer for the World Day of the Sick
Prayer for those on Pilgrimage to Lourdes
Prayer for young people who are called to spread the Good News
Prayer for Vocations
Prayer for sinners
>>> ERROR: Contact the Administrator to see this content <<<
Activity Ideas
Processions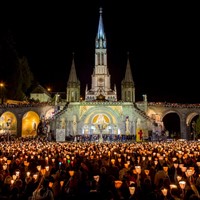 Every night in Lourdes Pilgrims follow Our Lady's instructions to process and to pray the rosary. One way to celebrate our patron's feast day could be to hold a procession in your school whilst holding candles/ praying the rosary/ singing hymns.
In Lourdes the Procession is led by the processional crucifix and is followed by a statue of Our Lady carried by a strong team! Most people in the procession carry a candle and whilst the hymn 'Immaculate Mary' is sung (see'Marian Music' above) they raise their candles during the chorus. Could you bring this Lourdes tradition to life in your school?
Praying the Rosary
When Our Lady appeared to St Bernadette she was holding a rosary and this can be a great way for our schools to connect with out Trust patron.
This video may help to bring some enthusiasm for this form of prayer with your young people:
Reconciliation
Our Lady instructed St Bernadette to pray for sinners so this could be a great opportunity to hold a Reconciliation Service in your school or to provide students who have made their First Reconciliation with the opportunity to receive the Sacrament of Reconciliation in school.
Special Guests
There are lots of ways to celebrate our Trust feast day with help from special visitors!
It would be a great opportunity to invite your local priest or someone from the parish who has been on Pilgrimage to Lourdes to ask them about their experience there (linking with the Year 3 Journeys topic in Come and See).
As Lourdes is a place of healing and our feast day is also the World Day for the Sick it is a great opportunity to invite in someone from your local community to talk about their caring profession whether that's a doctor, nurse or paramedic! Students will have the opportunity to explore a different Vocation and to learn more about our call to care for those in need (linking with the Y1 and FS1 'Special People' Come and See Topic).
OLOL Quiz
You could do this in many ways – it could be as simple as hiding 18 identical images of Our Lady of Lourdes around the school site and asking students to find all 18 apparitions.
Alternatively you could run a House Competition / a quiz in classrooms – check out the quiz below!
>>> ERROR: Contact the Administrator to see this content <<<