It's the first week of term and we are thinking all about journeys!
We will start off by hearing a well known song that tells us about the journey that the wise men made at The Epiphany and we will think about the peace that Jesus brought to the world.
Our Picture Resource will help us to learn about some of the signs that we can spot as we journey throughout the Church's year and out Action will help us to remember some of the things that we need to take with us as we make our journeys.
This week's Video Resource shows some of the incredible journeys that children across the world have to make in order to get to school and gets us to think about how we can support them through our prayers.
Finally we will hear about a life changing journey from the book of Acts in the Bible and we will think about the journey that we make throughout life with God by our side.
God is always with us whether we are making a journey to school, a journey to see relatives or our journey throughout life. This week think about how you respond to God when you are on your journey and think about how you can be an example to others of the love that Jesus brought to the world.
Scripture Bank
If you would like to reflect on some more of the scriptures related to this topic then you can use some of the scripture references below.
Most of these are taken from Open Bible – you can use their Topical Bible Search facility to find lots more ideas! Just remember to change the Bible translation to 'Good News Translation' when you click on the link!
If you have found any pieces of scripture that you think link to our theme this week then please add them in the comments box below to share the Good News so that we can all enjoy them!
Click here for the Music Resource
The most recent journey we have heard about in the Church's year is that of The Epiphany where the wise men went to visit the baby Jesus.
Join in with this well known song which is all about the journey of the three kings who followed the star.
The visit by the wise men is from Matthew's Gospel:
And so they left, and on their way they saw the same star they had seen in the East. When they saw it, how happy they were, what joy was theirs! It went ahead of them until it stopped over the place where the child was. They went into the house, and when they saw the child with his mother Mary, they knelt down and worshipped him. They brought out their gifts of gold, frankincense, and myrrh, and presented them to him.

Then they returned to their country by another road, since God had warned them in a dream not to go back to Herod.

(Matthew 2: 9-12)
The wise men who journeyed a long way to see Jesus were not Jewish and therefore their visit shows that Jesus came to the world to bring peace and light to
everyone's lives
, not just those who are Jewish or Christian.
This is just one of many examples of the peace that Jesus brought to the world because He brought people together who wouldn't usually mix and taught them to love one another.
Unfortunately there are many places across the world that do not have this peace in their lives. Instead they live in areas that suffer from war and conflict.
When you are faced with difficult situations stop and think.
Is there a way that you can sort out the problem in a peaceful way?
Can you be an example of love to others? How?
How do you treat people who are from a different group to you?
Where can you welcome others into your life?
Please help us Jesus to bring peace into our lives and to share love with others around us.
Take care of those who live in areas of war and conflict and help people to come to a peaceful solution soon.
Amen.

Click here for the Picture Resource
When we are on a journey we look out for signs that tell us where we are and if we're going in the right direction.
As we journey through the Church's year different colours are used to indicate the season, feast or celebration. These special colours are called Liturgical Colours.
This week your task is to choose which colour should go with each of these pictures. Each picture represents a different celebration or time of year.
Use this link below to see a colour reel which will help you with some of the answers.
For most of Advent the liturgical colour is:
A. Blue
B. Purple
C. Red
B. Purple 
The Liturgical colour at Christmas time is:
A. White
B. Purple
C. Green
A. White 
On the feast day of the Epiphany the liturgical colour is:
A. Blue
B. White
C. Red
B. White 
 The first day of Lent is marked by Ash Wednesday but what liturgical colour is used throughout Lent?
A. Green
B. Purple
C. Blue
B. Purple 
 Easter begins at the Easter Vigil where we celebrate Jesus' resurrection but which liturgical colour is used?
A. Pink
B. Purple
C. White
C. White 
Which liturgical colour is used for Pentecost, when the Holy Spirit came down upon the disciples?
A. Blue
B. Green
C. Red
C. Red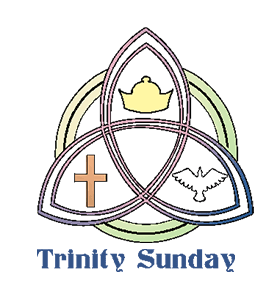 Which liturgical colour is used for Trinity Sunday?
A. White
B. Green
C. Red
A. White 
Which colour do we
associate
with Mary, Mother of God?
A. Blue
B. Purple
C. Red
A. Blue
Although on Mary's feast days the priest will wear White. 
Throughout the year try to use the correct Liturgical Colour for the season on your Prayer Focus displays and think about the colours that fit with the themes and seasons of your Liturgies.

Click here for the Action
If we are going on a long, and sometimes difficult journey then we may have a long list of things that we need to take with us.
Think about the things that you would want to take on a journey with you.
It could be a faith journey, an outdoor journey or even a journey to a friend's house.

To help us to remember all the things that we need to take for our journeys we are going to play a game, you may have played something like it before.
Going around the group everyone needs to start by saying:
"I went on a journey and I took with me…"
Then each person must come up with something that they need to bring on the journey.
You can decide whether you want all of the items to be alphabetical order or whether you just want to choose objects as they come into your head!
See how long you can make the list and see how good you are at remembering what you need for your journey.

Please help us Lord to remember the important things for our journeys and to remember that you will be with us to help us wherever we go.
Amen.

Click here for the Video Resource
Think about how
you
journey to school.
Walk? Bus? Bike? Car? Tram?
Watch this video to see the sort of journeys that children all over the world have to make to get to school.

Which journey was the
longest
?
Which journey do you think is the toughest?
All children have the right to an education and for some that means journeying for hours across difficult and dangerous terrain.
Many of our schools are involved in supporting charities such as CAFOD who help to support these children by giving them the books and pencils so that they can study in school or even by improving the roads in the area so that it is easier for them to get to school. As a Trust we are working together to build a school in Ghana, in Bunkpurugu which will hopefully mean that those in the community do not have to travel a long and dangerous journey to get an education.
One way that we can support these children is by praying for them.
Write you own prayer for all children who have a right to an education, especially those who have such difficult and dangerous journeys to school.

Click here for the Scripture Resource
Sometimes journeys can
change
us and lead us to places that we do not expect.
This is what happened to a man named Saul on his journey to Damascus.
Saul hated Christians and travelled from place to place to persecute and kill Christians so he was not expecting what happened on the road to Damascus but it changed his life completely.
Read the scripture and watch the video below to find out what happened to him.

A reading from the Acts of the Apostles.

As Saul was coming near the city of Damascus, suddenly a light from the sky flashed around him. He fell to the ground and heard a voice saying to him, "Saul, Saul! Why do you persecute me?"

"Who are you, Lord?" he asked.

"I am Jesus, whom you persecute," the voice said. "But get up and go into the city, where you will be told what you must do."

The men who were travelling with Saul had stopped, not saying a word; they heard the voice but could not see anyone. Saul got up from the ground and opened his eyes, but could not see a thing. So they took him by the hand and led him into Damascus. For three days he was not able to see, and during that time he did not eat or drink anything.

There was a believer in Damascus named Ananias. He had a vision, in which the Lord said to him, "Ananias!"

"Here I am, Lord," he answered.

The Lord said to him, "Get ready and go to Straight Street, and at the house of Judas ask for a man from Tarsus named Saul. He is praying, and in a vision he has seen a man named Ananias come in and place his hands on him so that he might see again."

Ananias answered, "Lord, many people have told me about this man and about all the terrible things he has done to your people in Jerusalem. And he has come to Damascus with authority from the chief priests to arrest all who worship you."

The Lord said to him, "Go, because I have chosen him to serve me, to make my name known to Gentiles and kings and to the people of Israel. And I myself will show him all that he must suffer for my sake."

So Ananias went, entered the house where Saul was, and placed his hands on him. "Brother Saul," he said, "the Lord has sent me—Jesus himself, who appeared to you on the road as you were coming here. He sent me so that you might see again and be filled with the Holy Spirit." At once something like fish scales fell from Saul's eyes, and he was able to see again. He stood up and was baptised; and after he had eaten, his strength came back.

The Word of the Lord.

(Thanks be to God.)

Acts 9: 3-19
The journey that Saul took changed his name (to Paul), and changed his life because he met Jesus and learnt about God.
Paul was so changed that he became the disciple of Jesus that travelled the furthest across the world at that time.
Watch this video below to find out where he went and the many places that he visited.
Have you ever been on a journey that changed you? Was it a good change?
On your journey in life are you travelling towards Jesus or turning your back and walking away?
We all have a journey to make through life and God will always be there with us on our journey but we have a choice of whether to welcome God or to turn away from God.

Help us Jesus to truly see you as we make our journey through life.
Help us to be ready to travel near and far to do your work.
Amen.