……………………………………………………………………………………………………………
HEALING
On the 11th February we celebrate the Feast of Our Lady of Lourdes, our Trust Patron Saint. When Our Lady appeared to St Bernadette in Lourdes, she called people to her to bathe in the water, to say they were sorry and find healing. Today millions of people visit Lourdes looking for the same peace and healing in their lives. That healing is not always physical, sometimes it can be mental or emotional too and as we celebrate this beautiful feast let us think about the things that we need healing and how we bring healing to others.
Click on each of the tabs below to explore the different resources that can support you in planning and leading your Collective Worship during the week of 'Healing' as we celebrate our Trust Patron Saint!
…………………………………………………………………………………………………………….
Scripture Bank
Here you will find lots of different scriptures that you could use for your Collective Worship. If you want to find more, why not try using your Diocesan Let Us Pray Resource and the scripture cards in there! Some of these are just Bible verses, and others are stories from the Bible. You could always find a video of the stories to use in your Collective Worship too!
If you have found any pieces of scripture that you think link to our theme this week then please add them in the comments box below to share the Good News so that we can all enjoy them!
Click the blue tap to go to the website
Bible Gateway
to explore more!
Bible Verses
Jeremiah 17:14 – "Lord, heal me and I will be completely well; rescue me and I will be perfectly safe. You are the one I praise!"
Exodus 23:35 – "If you worship me, the Lord your God, I will bless you with food and water and take away all your sicknesses."
Isaiah 41:10 – "Do not be afraid—I am with you! I am your God—let nothing terrify you! I will make you strong and help you; I will protect you and save you."
2 Kings 20:5 – ""I, the Lord, the God of your ancestor David, have heard your prayer and seen your tears. I will heal you, and in three days you will go to the Temple."
Bible Passages
Matthew 9:1-8 – Jesus Heals a Paralyzed Man
Matthew 9:18-26 – The Officials Daughter and the Woman Who Touched Jesus' Cloak
Mark 2:1-12 – Jesus Heals a Paralyzed Man (Lifted through the roof)
Luke 17:11-19 – Jesus Heals Ten Lepers
John 9:1-11 – Jesus Heals a Man Born Blind
Picture resource
In the slideshow below there are some different pictures that are linked to healing. You could show these in your Collective Worship and ask people to talk to the people around them or share their ideas with a big group about how these images show healing in our faith.
This slideshow requires JavaScript.
Prayer focus
What beautiful prayer spaces could you create for the Our Lady of Lourdes Feast Day celebrations?
Here you will find some ideas that can be used by you to create a prayer space for your school/ your classroom/ your home/ your room. The prayer space could be something that you build and create or that you imagine and draw. Share your ideas with your Chaplains and staff and send in your pictures if you can of your creations!
When you create your prayer space don't forget to add some words to explain why you have chosen to include these things. You could do a presentation for your Class/ family to explain what you have chosen to use or, if you are drawing your prayer space you could add some notes around it.
This slideshow requires JavaScript.
Liturgical colours
Although the Liturgical Colour for our Trust feast day is white we also often use the colour blue to represent Marian celebrations.
– Could you use these colours in your prayer space? Do you have any cloths/ backing paper that show these colours?
Signs, symbols and religious artefacts
At our Trust Launch Day in 2018 each school was presented with a statue of Our Lady of Lourdes which came all the way from Lourdes itself!
– How could you include the image of Our Lady of Lourdes in your prayer space? Do you have a statue? Do you have a picture? Could you draw a picture of the 'beautiful lady' that appeared to St Bernadette?
The Word
When we pray we always listen to God's Word which we find in The Bible. Jesus teaches us how to live good lives, full of love, so that one day we can be with Him and His Father in Heaven.
Choose some scripture for your prayer space – there are some ideas above/below or you can choose one of your own!
When Mary appeared to Bernadette she gave her some special instructions and, although Bernadette was just a young and poor girl, she made sure that she spread those messages.
Pray the rosary
When Our Lady appeared to St Bernadette they prayed the rosary together. A rosary is a set of special prayer beads that help us to focus on our prayers by giving us something to hold and words to say.
Could you include some rosary beads? If you do not have rosary beads you could make some or even draw some! The 3 main prayers in the rosary are the Our Father, Hail Mary and Glory Be – could you include these words in your prayer space?
Pray for sinners
Mary told St Bernadette to pray for sinners. When we sin we are turning away from God. In St Paul's letter to the Romans he reminds us that 'there is nothing in all creation that will ever be able to separate us from the love of God which is ours through Christ Jesus our Lord' (Romans 8:39 GNT). This means that we can always say sorry and ask for God's forgiveness. We all do things wrong sometimes so we should pray that we will try to be more like Jesus and do better next time.
Could you use the words 'sorry' or 'forgiveness' in your prayer space? Is there a piece of scripture that you could use to remind people to say sorry and to do better next time?
Build a chapel
Bernadette had to pass on the message to build a chapel at the grotto where the Beautiful Lady appeared to her.
There are now three Chapels built on top of each other at the site! We are all called to build God's church on earth through our love and good actions – can you think of some  ways that we help to make the world more like heaven through our actions?
Could you add some words that help us to build God's church on earth? For example, peace, love, community,
reconciliation. Could you use some bricks or materials to build a church and add this to your prayer space? Could
you find some pictures of the Churches at the grotto in Lourdes or even of your own Church to remind you of the people that have worked together to help create these buildings?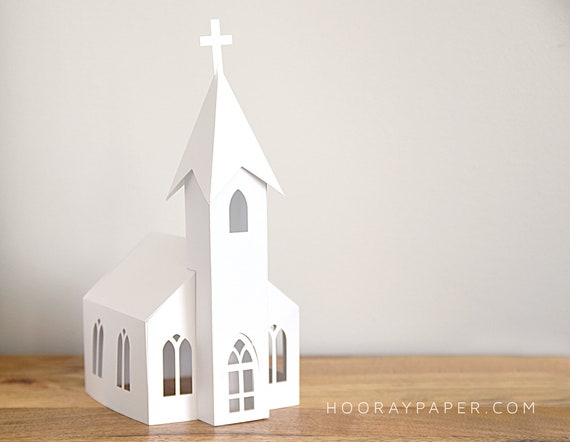 Come in Processions
Our Lady told Bernadette that people should come in processions to visit the Chapel. When we take part in a procession (a special walk) we show how important the journey is.
Think about how people arrive at your prayer space – do they need to walk in a special way? Could something be brought to the front of the Liturgy and placed on your prayer focus? Could a part of the Liturgy be that you journey together?
Water
When Our Lady of Lourdes appeared to Bernadette she told her to drink in the water from a spring and to wash in it. We know how important water is to survive and how it can help to keep us safe and healthy. Have you or someone you know got any Lourdes water that you could include in your prayer space? Could you write a prayer to thank God for the water that he has given us?
Candles
When Bernadette went to the grotto to see Our Lady she always brought a candle. We always use light in a prayer space to remind us of the light of Christ in our lives. Jesus' light brings us hope because, even in the darkest of times, His light still shines brightly. With an adult's permission, you could include a candle in your prayer space. In Lourdes there are lots of candles so you could use some fairy lights to represent the many candles in Lourdes. You could draw a candle burning brightly to represent the Light of Jesus.
Healing
Thousands of people visit Lourdes every year for healing. Sometimes this is healing of their minds because it is a place that brings peace and sometimes it is physical healing because there have been many miracles in Lourdes.
Many people in our world need healing at the moment – you could write a prayer for healing and add this to your prayer space. What symbols of healing could you add – some plasters? A drink? Blanket?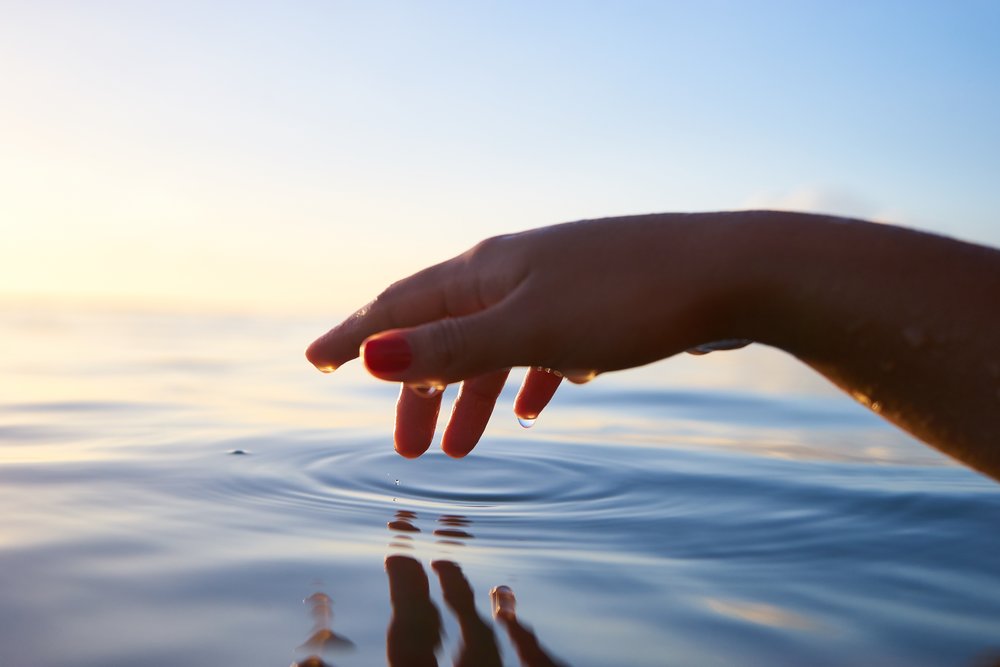 Scripture resources
Here you will find resources related to some of the scriptures mentioned in the Scripture Bank. You can use them either to help you to understand the scripture in greater depth when you are planning, or in your Collective Worship for everyone to see!
Jesus Heals a Man Born Blind – Saddleback Kids
Jesus Heals a Paralyzed Man – Animation
Jesus Heals the Officials Daughter – Christian Cartoons for Kids
Response resources
Healing Water
The holy water in Lourdes reminds us of Jesus' healing power. Our Lady, the mother of Jesus, requested St Bernadette to wash in the water in Lourdes. St Bernadette dug a hole in the ground where Our Lady pointed to and a spring came forth. This water still flows today. People come to wash in the special baths to find healing, peace and follow Mary's request. Others come to help and serve in the baths to help others find the healing they are looking for. 
Every year staff, students, parishioners, and clergy who attend the pilgrimage to Lourdes bring holy water from Lourdes. We can bring some of the presence of Lourdes to our school by touching and experiencing the holy water. 
At the front of the room on our prayer focus we have some bowls of holy water from Lourdes. A row at a time, we invite all staff and students to come to the front, dip your hand in the water and bless yourself with it by making the sign of cross and then return back to your seats. As you do this say a prayer to God and tell him where you need healing in your life.  You may have a family member or friend who needs healing. You may need healing from a loss in your life. You may need healing from the things that bring you stress in your life. 
Praying the Rosary
When Mary first appeared to Bernadette, she was holding a set of rosary beads, and silently moved her fingers along the beads as Bernadette prayed the Rosary. It is an important prayer for Catholics; Our Lady herself gave the Rosary
to St Dominic and it is prayed everyday in Lourdes.
The rosary is a meditative prayer and it helps us to reflect on the key moments in Jesus' life. When we say the rosary we might focus on one of the four mysteries:
Joyful mysteries– Jesus' childhood,
Luminous (Light) mysteries- Jesus' adult life,
Sorrowful mysteries- The events of Good Friday,
Glorious mysteries- What happened after Jesus' Resurrection,
In each mystery, there are 5 moments in the scripture of Jesus' life that we meditate on.
Why do we pray the rosary? It helps us to get closer to Jesus and Mary through reflecting on key events in their life. It also helps us to remember that Jesus experiences the same feelings that we do.
Mary is not only the mother of Jesus, she is a mother to us all, the mother of our Church. We can turn to Mary at any time when we are in need of support.
Watch the video below and pray the rosary along with the help of our family of schools, you may see some familiar faces too!
Adoration of the Blessed Sacrament
Whilst in Lourdes, Pilgrim's have the opportunity to spend time with God in Adoration of the Blessed Sacrament. This is a special moment in the pilgrimage where we get to draw near to God both as a community and personally.
During the experience of Lourdes in a Day/Week, Adoration would be a wonderful addition to the experience, both for the young people and staff. A guide on how to celebrate Eucharistic Adoration in schools is available here: http://chaplaincyblog.aquinas-
cmat.org/2019/12/16/adoration-of-the-blessed-sacrament/
Lightfever
Enable young people to experience Adoration, combined with the action of lighting candles, which is another thing done in Lourdes, would be a good way to help them experience a little of what Lourdes is about. Lightfever is Adoration of the Blessed Sacrament, with the addition of lighting candles to help to focus on the person or intention to be prayed for and the placing of these candles in front of the altar.
You will need:
 Equipment needed for Adoration (see above resource)
 Tea light candles (electric or real, depending on your risk assessment!)
 Music (optional)
 Sand trays, or votive candle stand, to put candles in
 Scripture reading
Suggested structure:
 Play music as students come in to create a prayerful atmosphere. Each student gets a candle on the way in
 Sign of the Cross and Exposition of Blessed Sacrament (see guide above)
 Scripture and time to reflect and think of someone they want to pray for. Could use this time to write a prayer
 Reflective music to play while students light their candles and place them in front of the altar (if using real candles, an adult will need to help with this bit)
 Period of silence to be with God and let him speak to us
 Repose the Blessed Sacrament and Sign of the Cross
Serving Others – Community Café
One of the biggest things people take away from their experience of a pilgrimage to Lourdes is the sense of community which exists during the week. This is because we come together as a diocese, young people mixing with old, healthy people and not so healthy, religious and not religious. One of the things which helps to give this sense of community is that everyone is there with the intentions of serving others. People go to push people around in wheelchairs, to give out blankets, to help people with banners, to help people in the baths and generally to be able to serve others, just as Jesus did. During your Lourdes in a Day/Week, you will need some element which replicates this sense of serving others and a sense of community.
Run a 'Community Café' to encourage people to socialise with each other and have an experience of serving each other
 Have refreshments (squash, biscuits etc) and questions/ conversation starters on each table to get people talking and sharing experiences
 Students could be allocated times when they would run the Community Café to have an experience of serving others
 This could run as one of the workshops and/or as a voluntary thing at break time
 This could also be extended to be a before or after school event too, with parents and guardians being invited to come for a cup of tea and a bacon roll, with some students serving them and the same questions/conversation starters on the tables
Processions
On Wednesday 3rd March 1858, Our Lady appeared to Bernadette for the 14th time. During this apparition, Mary told Bernadette that she wanted the priests to build a church on the site and for the people to come in procession.
For this reason, processions take place everyday in Lourdes. The Marian Procession is one of these and starts in front of the Grotto and travels all the way to the furthest entrance to the Lourdes domain before turning back to finish in front of the Rosary Basilica, the church built in front of the Grotto.
During processions, the people carry banners which show which diocese, parish or school they belong to and carry candles whilst praying the Rosary and singing Ave Maria, as well as other Marian hymns.
Organising a procession around school, into Mass or around the school grounds would be an excellent way to
bring part of the Lourdes experience to young people.
Activity
 Creating a Lourdes banner or flag: Run a session for students to create a Lourdes banner or flag for their class or year group. One group of students could create a banner for school (see 'How to make a flag guide below').
 Create paper candles – Bernadette brought a candle with her every time she went to see Mary after her first apparition.
Note: Something to aim for is for each school in the diocese to have a small banner or flag which they can send on the pilgrimage (or ideally take on the pilgrimage if they are going!) with a local school who are attending, so that
the schools are all represented.
 Arrange for all of the students (from whole school or from the year group if it is a year group at a time who are doing Lourdes in a Day/Week) to process around the school/school grounds with their banners and candles.
This would be most effective if combined with praying the Rosary (see Praying the Rosary section) and with the procession ending with the entrance to (or happening as part of) Mass or a final liturgy.
Guide to how to make a Lourdes flag
Materials:
– Pole/stick/paper rolled up
– Fabric (which will have to be sown) or paper which will be glued around the flag pole.
Step 1
Determine how large you want your flag to be. You can make it small enough so it can be held in one hand or larger for two hands. This will be determined by the size of your flagpole. Your flag doesn't have to be a typical rectangular shape, either. You can make it a triangle, a square or any other shape that you want. Make sure you include at least one flat side that will be used as the flagpole side; this will be the side on which you sew a hemmed opening for the flagpole or glued if you are using paper.
Step 2
Cut your material into the desired shape or shapes, allowing for extra space on the flagpole side. If you are using your own design, cut it out with paper first to be sure it looks right, then use your paper cut-outs as patterns as you make the cuts in your material.
Step 3 (if using cloth)
Sew the flagpole insert. On the flagpole side of your flag fold the material over at 4 inches from the hem. Pin the material down and sew along the hem line to create a 4-inch "pocket" the length of the side. This is where you will insert your flagpole.
Step 4
Decorate your flag. You can sew on patches of outdoor material, add ribbons, or stencil words onto
the flag.
Step 5
Insert the flagpole into your flag pole pocket (if using cloth).
If you have used card or paper, wrap around your flag pole and attach with glue or strong tape.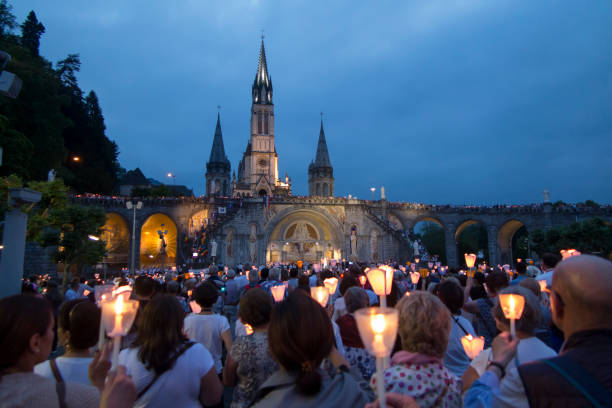 Music resources
Here you can find some songs and hymns that you can be used for your Collective Worship.
Think about when you want to use music, as people come in or leave your Collective Worship, during a quiet time for reflection, after the scripture?
Spend some time in your collective Worship reflecting on your chosen music – why did you choose this piece of music? How does it make you feel? How does the music link to the theme of healing?
Come to the water – Matt Maher
Living Water – Shane and Shane 
All who are thirsty by Kutless
The Well- Casting Crowns 
O Living Water – Bernadette Farrell
Way Maker – Leeland
This song talks about Jesus being a "miracle worker…light in the darkness." You could link this song to his healing miracles, some of which you can find in our scripture bank tab!
Oceans – Hillsong United
This song is perhaps not directly linked to healing through its lyrics, but is a beautiful song that you can use if you are thinking about the healing powers of water during your Collective Worship.
Trading My Sorrows – Darrell Evans
This song talks about us using our pains and difficulties to bring us closer to God. God will heal us and calm us when we are close to Him.