Our Word of the Week this week is
GIVING
32nd week of Ordinary Time
During this week, on Thursday, we celebrate the feast of St Martin of Tours. He is famous for literally cutting his cloak to give it to someone in need. His ability to be generous and to look after those around him can inspire us all. Think this week about how you can give to others – what do the people around you need?
Scripture Bank
If you would like to reflect on some more of the scriptures related to this topic then you can use some of the scripture references below.
Most of these are taken from Open Bible – you can use their Topical Bible Search facility to find lots more ideas! Just remember to change the Bible translation to 'Good News Translation' when you click on the link!
If you have found any pieces of scripture that you think link to our theme this week then please add them in the comments box below to share the Good News so that we can all enjoy them!
Save your riches in Heaven
Today we reflect on Jesus' words from Luke's Gospel:
"Do not be afraid, little flock, for your Father is pleased to give you the Kingdom. Sell all your belongings and give the money to the poor. Provide for yourselves purses that don't wear out, and save your riches in heaven, where they will never decrease, because no thief can get to them, and no moth can destroy them. For your heart will always be where your riches are.

Luke 12:33-34 GNT
What does this Gospel reading make you think about first?
Would you find it difficult to sell your belongings and give the money to the poor?
What can happen to our belongings as time passes? Do they last?
What riches can we save in heaven? How can we be rich if we sell our physical belongings?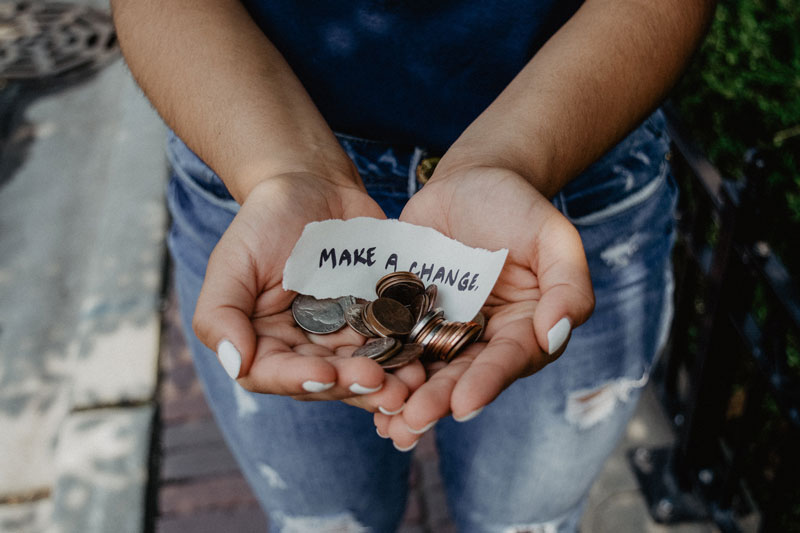 It can be difficult to imagine a life without possessions where we are focused on the love that we can give and not the money that we can make.
How can you make a change in your life to be more giving?
How will those changes help you to build the Kingdom of God on earth?
Help us Lord to focus on the things that are important. When we feel greedy or worry too much about our belongings, help us to remember the most precious gift that you have given us – life itself.
May we each remember to give to others and to treat others just as God does, as a precious gift.
Amen.
The Widow's Offering
Today we reflect on a Gospel reading from Mark's Gospel called 'The Widow's Offering', its the same scripture that we heard during Mass at the weekend:
As Jesus sat near the Temple treasury, he watched the people as they dropped in their money. Many rich men dropped in a lot of money; then a poor widow came along and dropped in two little copper coins, worth about a penny. He called his disciples together and said to them, "I tell you that this poor widow put more in the offering box than all the others. For the others put in what they had to spare of their riches; but she, poor as she is, put in all she had—she gave all she had to live on."

Mark 12: 41-44 GNT
Watch this video to learn a little more about this Gospel passage.
Are there times when you have felt that you don't have much to give?
How could you be like the Widow – offering something small but mighty to a good cause?
Can you cheer others up?
Can you donate some of your unwanted clothes and toys to charity?
Can you help someone when they are in need?
What other ideas can you come up with? Add them to the comments box below!
Help us Lord to be more like your Son Jesus by being generous and giving all that we have to offer to make a difference to others.
Help us to remember the gifts that you have given us, no matter how small they may seem.
Amen.
Corporal Acts of Mercy
The Corporal and Spiritual Works of Mercy are actions we can perform that extend and give God's compassion and mercy to those in need.
1. Feed the hungry
2. Shelter the homeless
3. Clothe the naked
4. Visit the sick
5. Visit the imprisoned
6. Bury the dead
7. Give drink to the thirsty
One of the 7 Corporal Works of Mercy is to 'bury the dead'.
By giving our time to bury those who have died, and to continue to pray for them, we are following Jesus' example of mercy and placing our hope and trust in the resurrection of Jesus that those who have died are with God in Heaven.
Today we are going to use a special prayer in the Catholic Church to pray for those who have died using the words below.
You might like to take a few moments in silence beforehand to reflect on who you would like to hold in your heart and prayers today.
Eternal rest grant unto them, O Lord,
and let perpetual light shine upon them.
May they rest in peace.
Amen.
Remembrance Day
This week we mark Armistice Day – 11 November, which marks the end of the First World War and on Sunday it will be Remembrance Sunday.
On these days we remember all those who gave their lives for their country, all who suffered and died through acts of war and those who were left behind to grieve and mourn.
In John's Gospel we are reminded of the best gift of love that we can give:
The greatest love you can have for your friends is to give your life for them.

John 15: 13 GNT
We know that God loves us with that same great love because He gave us His Son, Jesus, who suffered on the cross and died for us so that he could beat death and give us a life with Him in Heaven:
For God loved the world so much that he gave his only Son, so that everyone who believes in him may not die but have eternal life.

John 3: 16 GNT
As we reflect on the acts of service and love that those who have died in times of war have shown us we think about the ways that we can make the world a better place which remains peaceful and respectful.
We pray the words below together today in the hope that we can all follow the example of Jesus Christ, Prince of Peace who taught us to love our neighbour as we love ourselves.
For all those who have died through war or acts of violence; may we never forget their sacrifice.
Help us to be people of peace who are quick to forgive and always seek to show love to our neighbour.
Amen.
Surrender
Today we have the chance to reflect on a song that is all about giving ourselves to God.
Instead of the word 'giving' this song uses the word 'surrender'.
When we think about our faith 'to surrender' means that a believer completely gives up his own will and subjects their thoughts, ideas, and deeds to the will and teachings of God. We are not forced to do this (like an army may be forced to surrender to another army in a battle), instead we do it happily and gladly.
Listen to this song carefully and think about what the lyrics mean.
Surrendering ourselves to God is a big challenge and a big commitment.
Even though we may want to surrender to God there are often lots of things that get in our way – think about how you can be better at giving your life to God and being a loving follower of Jesus at all times.
Lord, help us to give our all to you.
Help us to ignore the distractions and to be your worthy followers so that, one day, we may be with you in Heaven with the Saints that gave us a beautiful example of how to surrender to you.
Amen.