Welcome to the Our Lady of Lourdes CMAT May Mission Week!
'We are inspired by Mary's love for God'
This week we are celebrating the Our Lady of Lourdes CMAT May Mission Week to mark the month of Mary. For hundreds of years, May has been a month dedicated to Mary. Catholics all around the world make a special effort during the month of May to spend time with Mary, to look to Mary for inspiration, to celebrate Mary's example of discipleship, and to pray through Mary with the rosary.
The theme for our mission week is: We are inspired by Mary's love for God.  Each day, this week, there will be a variety of resources for you to use and explore in your schools. As we unpack the different pieces of scripture where Mary is present in the Bible and reflect on the words of our Trust prayer, we will think about how we can use the example of Mary to inspire us in our mission to be followers of Jesus and to share the joy of Christ beyond our school communities.
Join some of the Our Lady of Lourdes team of Chaplains for our Mission Week Opening Liturgy below!
Preparation before the opening Liturgy:
Within our opening Liturgy there will be a short quiz where either: your teacher will need a whiteboard pen and board to write down your answers as a class OR each student will need a pen and something to write their individual answers on. You may want to pause the video to allow yourself more time to complete the quiz.
Before you join us for the opening Liturgy you may want to make some changes to the atmosphere to help prepare the space for prayer, for example you could:
Encourage everyone to tidy their tables quietly by playing some reflective music and ensure that there are not any objects out that might be distracting during the Liturgy If you have the resources available, lay out some liturgical cloth that is central in the room- we are still in the season of Eastertide so you could use gold or white. As we are celebrating Mary, you might want to put some blue cloth on the prayer focus too. Light some candles or switch on some electric candles – candles remind us that Jesus brought light to the world Open the Bible on the Annunciation of the Lord scripture Place an object or image of Mary on your prayer focus to help remind everyone that we are celebrating Mary and spending time with Mary this week
We just invite you to have a moment of silent reflection, look back on your day yesterday and your day today so far. Can you count the number of times you have said "Yes" to someone?
Was it hard to say yes or did it come naturally to say yes?
What difference did saying yes make?
Welcome to today's prayer, let us begin by remembering that we meet in the presence of God by making the Sign of the Cross.
In the name of The Father, and the Son and The Holy Spirit, Amen.
In today's prayer we are going to reflect and meditate on a song called The Magnificat, you may have heard the Magnificat being sung before in school or at Church, and it is a truly beautiful song, with a very famous author…Mary! The lyrics used in the Magnificat are sung by Mary in Luke's Gospel after Mary was visited by the Angel Gabriel and it was revealed that she would give birth to the Son of God.
Pope Francis describes the Magnificat as "a revolutionary prayer, the song of a faith-filled young woman conscious of her limits, yet confident in God's mercy." Pope Francis urges young people to have the same confidence in the Lord: "Jesus is calling you to leave your mark in life, your mark on history, both your own and that of so many others."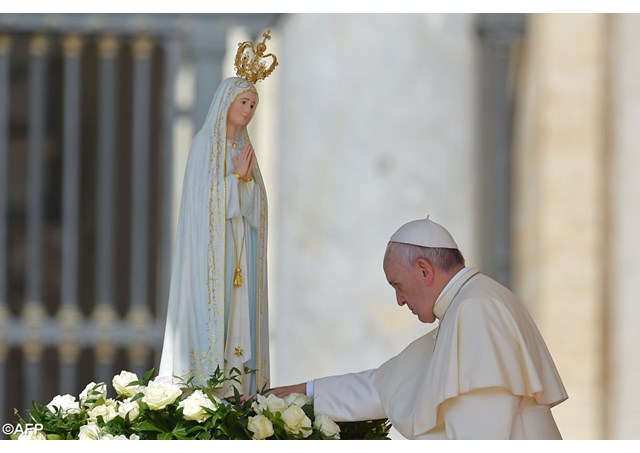 Mary was not important in the eyes of the world or her society. In her song, the Magnificat, she says that God has lifted the humble and poor. God seems to have a way of choosing those who, in the eyes of the world, are 'unimportant'. Before we say yes to God, God says yes to us – 'Yes, it's going to be OK – Yes, I love you – Yes, you are special' – 'Yes, I have a job for you'
Yes, despite how we see ourselves sometimes or how others might view us, and yes, even when we mess up sometimes, God loves us and values us. God's plan for the world rests on a simple 'yes' from ordinary people like you and me.
Today, as we reflect on the line of our Trust prayer "Help us to love like she loves, have faith like she has", we think about how we too can be brave and courageous young people with faith and leave a positive mark on the world like Mary did. 
Someone once said that we are all called, like Mary, to give birth to God in the world, to be God-bearers. Not by physically giving birth like Mary did but by thinking about how we could 'birth' or bring God into the world we live in (eg. in our community, school, friendship groups, other groups we are part of). What do you feel God might be calling you to do as part of his mission to love the world, bring about justice and heal its brokenness?
Today we challenge you to work together in your classes and create your own song of praise. Below you will find a video of some of the Briars team singing the Magnificat. Play the video below to familiarise yourself with the tune and then put together some lyrics for at least one verse and a chorus to accompany the tune of the Magnificat, if you have time to plan more verses then that's great!
In the lyrics you might want to reflect on some of the words used in our Trust prayer. How can we love like Mary? How can we have strong faith like Mary? In what ways can we say Yes to God and answer our calling?
We can't wait to hear your lyrics, so please do share them in the comments below and perhaps your school Chaplains will award house points for the best entries! Good luck!
Remember, on Monday, you were given the mission to write down and commit to doing something that you would usually be shy of doing. Have you said yes to something that you would normally be worried about doing or would normally avoid? If you haven't said yes yet, make it your mission today to say yes to someone or something to help improve someone's day!
Let us remember that God is with us in our mission as we end our prayer with the Sign of the Cross.
In the name of the Father, and of the Son, and of the Holy Spirit. Amen.
Below you will find a step by step Act of Worship that you can lead in your classrooms. The worship will be split into the four sections of a Liturgy: Gather, Word, Response and Mission and there will be lots of opportunities for young people to read the different parts for today's Act of Worship, please select some volunteers to help lead today's worship…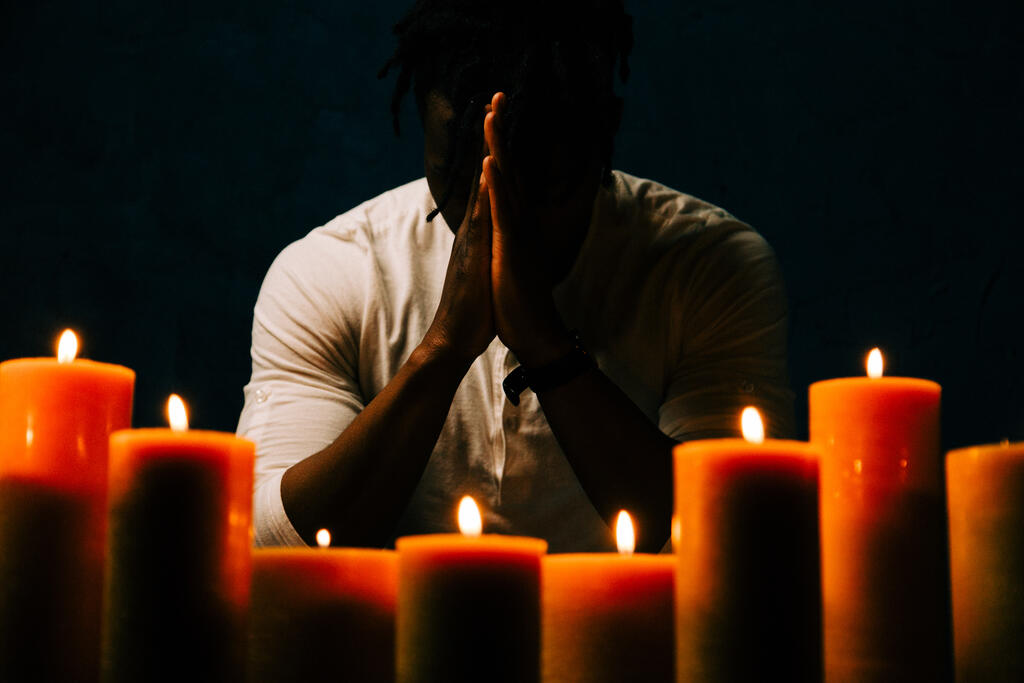 Gather
Gather
Hello and welcome to today's Liturgy. Let us begin by remembering that we meet in the presence of God by making the Sign of the Cross. In the name of The Father, and the Son and The Holy Spirit, Amen.
Today we are reflecting on the third part of our Trust prayer:
Inspire in all of us a sense of togetherness, so that we can use
the gifts you have given us for the good of all in our community
and bring support and healing to those less fortunate than ourselves.
In our worship we are going to reflect on how we can use the words of Mary to inspire us to follow the example and teachings of Jesus to bring support to most vulnerable in our society.
The Word
The Word
We are now going to listen to a piece of scripture from John's Gospel which recounts the first miracle Jesus performed during a wedding in Cana, we also hear the last official words of Mary within the scriptures, so listen closely to what she tells the servants to do…
Scripture Reflection
In the scripture we hear that it was through Mary's intercession and encouragement of Jesus that Jesus performed his first miracle at the wedding. Mary leads the people to see and know how amazing Jesus is and today she too, inspires us to get to know Jesus – she is Jesus' number one fan and supporter!
There was no one on earth as close to Jesus as Mary was, therefore if we want to get closer to Jesus, we can turn to Mary too. Mary's strong faith is so admirable and she shows us how to be faithful in the good times, the difficult times, through pain and through joy. 
In the scripture Mary says the words 'Do whatever he tells you', these words can be used as the foundation of our spiritual lives. Jesus is asking us to follow him. To love one another as he loves us. To forgive each other and to reach out to those who are less fortunate than ourselves.
It is from this miracle that Jesus goes on live out his ministry and show people a new way of living, with love at the centre of everything.
Today, we think about how we can use the words of Mary to follow Jesus' example and teachings that are told to us in the Gospels.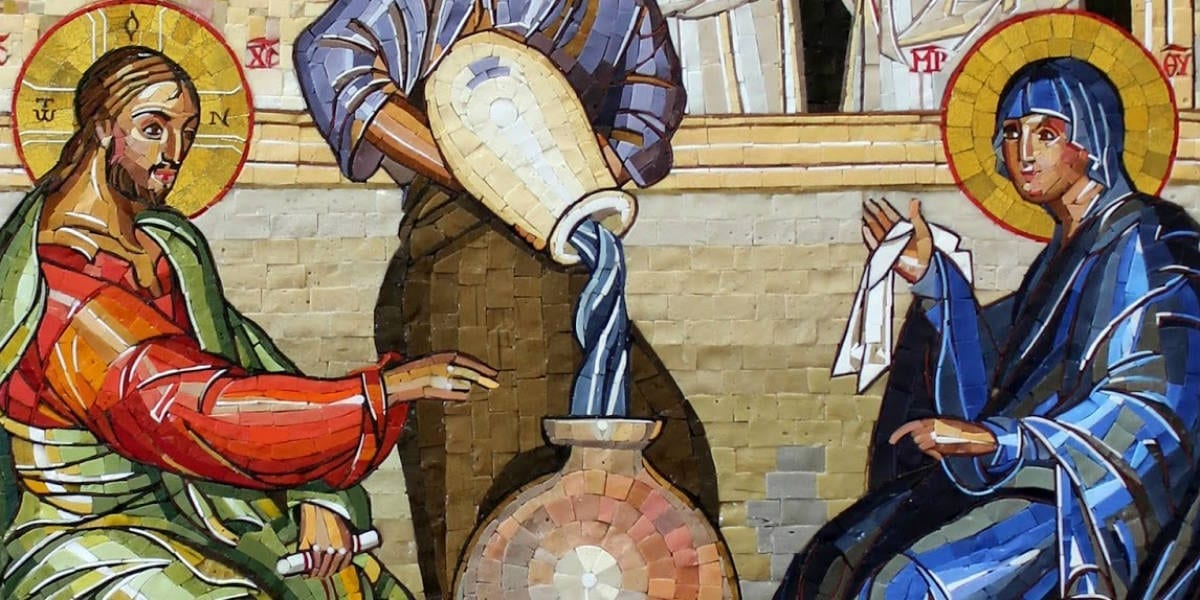 Response
Response
As we think about how can follow Jesus' example of bringing support and healing to the most vulnerable in our society, we can turn to CAFOD's new campaign for inspiration on how we can look after global neighbours who might be suffering.
CAFOD's recent campaign is called 'Step up to the plate'. We all need food to eat, and our world has more than enough food to feed everyone. But 1 in 10 people in our global family are still going hungry.  Our global food system is broken.
Big food companies are growing and sharing food in many ways that harm our common home and make it hard for some of our brothers and sisters around the world to have enough food to eat.
Watch the video below made by CAFOD to find out more about more about our responsibility to fix the food system:
For today's mission we are going to look at some of the ways we can support CAFOD's campaign and demand change from our world leaders.
Another way in which we can all come together and make a difference is by praying for a world where food is grown and shared fairly.
Let us spend some time now praying for the Earth and our global neighbours who are hungry:
Reader 1:
Jesus,
You understand what it is like to be hungry.
Teach us to have grateful and generous hearts.
Forgive us when we waste food
or don't want to share.
Reader 2:
Jesus,
You welcomed everyone to your table.
May we always remember that we are one family,
who share one common home,
so all are invited to share the feast.
Reader 3:
Jesus,
You fed the hungry crowds.
Open our eyes to the needs of others
and help us to follow your example,
of love and service.
Reader 4:
Jesus,
You come to us as bread and wine.
Fill us with your kindness.
Give us the appetite and strength
to change the world for the better.
Amen
Mission
Your Mission
Jesus was never shy of standing up for injustice. He was not afraid of 'causing a scene' when giving a voice to the most vulnerable and as Christians, we too have that responsibility.
So what can our schools do moving forward?
We can all do something to support small farmers and make a fairer food system that tackles climate change and puts people before profit. For your mission today we challenge you to 'step up to the plate' and write some messages to the UK Government. We can write messages, send photos, and let CAFOD know how many people demand change: cafod.org.uk/secondary
In your form groups, we challenge you to complete one or more of these 'step up to the plate' templates, see link below:
Step up to the plate Action Template
Tell the government what is wrong with the food system, why it is their responsibility to do more for the people who are suffering from it and tell the government that we want them to step up to the plate and change how food is grown and shared in our world.
Once you've assembled your plate(s) send your photos to i.mcelhone@trinity.nottingham.sch.uk or r.cotter@becketonline.co.uk so that we can see all the amazing messages. Then send them to your local MP and post them all over your schools social media to promote the campaign.
Let us remember that God is with us in our mission as we end our Liturgy with the Sign of the Cross.
In the name of the Father, and of the Son, and of the Holy Spirit. Amen.
Today is the Solemnity of The Ascension of the Lord, on this joyful celebration we rejoice knowing that Jesus loves us, Jesus is with is in heaven and there is a place in heaven for us all. After Jesus resurrected from the dead, he spent 40 days with his beloved disciples. Before Jesus went to heaven, he gave his disciples important instructions. He tells the disciples to share the Good News about his resurrection and teach people Jesus' teachings. It was the disciples job to help other people become Jesus' new disciples. Over two thousand years later, Jesus still wants his followers to bring other people to him. We can do this by learning more about Jesus and showing Jesus' teachings in our actions. Jesus promises to be with us always in our mission as we try to live as his disciples and lead other people to encounter him.
As he was blessing them, he departed from them and was taken up into heaven. They worshipped him and went back into Jerusalem, filled with great Joy, and spent all their time in the temple giving thanks to God".
Luke 24: 51-53
It's not the End, it's the Beginning!
Today we have a short reflection from Fr Lim to help us begin our Ascension celebrations…
Think about our every day farewells with people, friends, family, loved ones.
We often review the time we spent with the person
We might say something like, "Well, thank you for inviting us. It was great to be a part of this.
"I have loved spending this time with you!"
The promise to stay in touch.
We might say something like, "We really need to get together more often," or  "I'll give you a call when we arrive home, or in a week or two to catch up."
Remind each other of our next visit.
"We'll see you next year!" Or next month, or next week or whenever the next visit is planned!
Similarly, Jesus did these very three things with his disciples before he ascended to Heaven.
He reviewed the things that were accomplished on His visit and time on earth, and told the disciples what they needed to accomplish in His absence.
He promised to stay in touch with them.
He told them of His plans to see them again.
As Fr Lim says, we are Jesus' hands on earth and it is up to us when we meet people and spread the love of Christ with them and to remind them of Jesus' words. Jesus' ascension into heaven gives us lots of reasons to be happy and it is now up to us to share this joy and light to other people's lives so that they too know that Jesus is with us, Jesus loves us and Jesus is waiting for us in heaven, heaven is real!
We know that heaven is a perfect place where God Father, God the Son and the Mother of God, Mary are waiting for us. Pause for a moment to think and share what you picture heaven to look like? How do you imagine the most perfect place?
Let us know in the comments below how you imagine heaven to be!
We are coming to the end of our Mission Week…thank you so much for getting so involved and thank you to everyone who shared photos of your schools celebrating! If you have more photos to share, please tag us on twitter or email Chaplains Ruth r.cotter@becketonline.co.uk or Issie i.mcelhone@trinity.nottingham.sch.uk
Please find Friday's closing Liturgy below the photos.
This slideshow requires JavaScript.
Closing Liturgy
Let us say our whole Trust Prayer together…
God Our Father,
Give us strength so that, guided by Our Lady's example,
we can have the courage to say yes to you.
Help us to love like she loves, have faith like she has
and follow Jesus' example in all that we do.
Inspire in all of us a sense of togetherness, so that we can use
the gifts you have given us for the good of all in our community
and bring support and healing to those less fortunate than ourselves.
We ask Our Lady to guide us, just as she guided St Bernadette,
as we seek to bring Jesus' message of love
and forgiveness to others.
We ask this through Jesus Christ, your Son, Our Lord.
Amen
Our Lady of Lourdes, pray for us.
Your Mission - Trust Competition for Pentecost
Your mission is to create an invitation, a leaflet or poster for someone in the wider community to invite them to be a follower of Jesus and to teach them about Jesus and what it means to be a part of Church. You need to take Jesus to the people, just like Mary did! You may even have a school or church event, Liturgy or celebration that you can invite them to, so that they can experience the joy of belonging to a Catholic community. 
There will be some different templates that you can use for your invitations or posters that can be found on the be inspirational may missions week post, or you may have your own designs and ideas for how you can bring Jesus to the people! 
It doesn't have to be a poster, leaflet or invitation, if you have some other ideas for how you can share the Good News and help others feel welcome then be as creative as you like! You might prefer to write a song, write a poem, or create a dance.
Another exciting thing about this mission is that it is also a Trust wide competition across our schools, so once you have created your invitations or posters, we would like you (/with the help of your school teacher) to take a photo and send your entries to one of the OLOL Chaplains – Ruth (r.cotter@becketonline.co.uk ) or Issie (i.mcelhone@trinity.nottingham.sch.uk ) by Monday 13th June, so you have lots of time over half term to create your invitations and posters that share the Good News of Jesus!
Every submission will be awarded in each school too, with house points, positive points etc!
Good luck in your mission!
KS2 Template Coming Soon