We are called to be an outward looking Church – spreading the Good News just as Mary Magdalene did on that Easter morning. Pope Francis tell us that we should not look in on ourselves but instead take the Joy of the Gospel out to those people who need to hear it. This doesn't mean just shouting Bible passages at people in the street it means living our life in a way that reflects our scripture and shows people the very best of what our Church is all about. How can your evanglise this week? How can you show people what is truly important and set a good example with your life?
Well done to everyone who helped create reflections for our Stations of the Cross on Good Friday.  Can you spot your work?
Visit: https://acnuk.org/resource/online-masses/
to see where you and your families can live stream Mass from your homes in the coming weeks!
For health information and advice visit: https://www.nhs.uk/conditions/coronavirus-covid-19/
For the Governments advice and instruction regarding COVID-19 visit: https://www.gov.uk/coronavirus 
Your Chaplain is on call as usual to support you! If you worried or concerned about anything and would like to contact me, you can do this via my work email
Please stay safe and keep looking after your physical, spiritual and mental health by accessing the daily prayer resources.Take care.
We start with the Sign of the Cross.
It's still Easter, so let's see what is going on!
Jesus gave a very special speech during his time on Earth called the Sermon on the Mount.  Jesus outlines who were blessed and who would receive everlasting life in heaven.
The Sermon on the Mount found in the Gospel of Matthew (chapters 5-7) proclaims some of the richest and most familiar teachings of Jesus: the beatitudes (see 5:3-10).
1. "Blessed are the poor in spirit, for theirs is the kingdom of heaven."
The poor include both literally poor people, in need of basic necessities, and figuratively poor people, who are aware of their spiritual poverty, people who acknowledge their need and utter dependence upon God. The reward mentioned here is nothing less than the kingdom of heaven. What do we consider to be our family's greatest riches (what are we blessed with)?
2. "Blessed are they who mourn, for they will be comforted."
Those who mourn could be anyone who is sad or experiencing a loss of any kind. Jesus promises comfort for those who suffer. When we suffer we have a choice to make: we can become bitter, or we can become more compassionate to others in pain. How do we find comfort in our family?
3. "Blessed are the meek, for they will inherit the land."
The meek are people who are humble and patient. A person who chooses other ways to resolve conflicts without resorting to violence is meek. The reward is great wealth. How do we resolve conflict in our families?
4. "Blessed are they who hunger and thirst for righteousness, for they will be satisfied."
This blessing is for people who hunger for justice in our world. Children have a great capacity to see wrongs and often possess a simple view of complex issues. How can we create a sense of fairness at school or in our families?
5. "Blessed are the merciful, for they will be shown mercy."
Mercy is a word that holds many meanings: forgiveness, kindness, compassion. It is easier to extend mercy to others when you begin with yourself. In our family, rather than keeping track of mistakes, we try to see God's grace among us. With mercy, you receive back the more you give. When have you shown mercy to others in the past?
6. "Blessed are the clean of heart, for they will see God."
Who better to be clean or pure of heart then little ones? They lack malice and have such innocence, at least during the first few years. Of course, they see God, because there is nothing clouding their vision! The clean of heart can also be people who single-mindedly see God first in all situations and people. How can you show that you put God before everything else?
7. "Blessed are the peacemakers, they will be called children of God."
What risks do we take to make peace? Jesus asks us all to be peacemakers; we are, after all, children of God. As his children, we must continue to work for unity and understanding. Our families are microcosms of the world in which we learn peacemaking skills. Peace begins at home. What can you do to ensure that your home is at peace at the moment?
8. "Blessed are they who are persecuted for the sake of righteousness, for theirs is the kingdom of heaven."
It can be difficult to do what is right, such as standing up to someone who is acting like a bully. But we learn from Jesus, and, through practice in our family, we see that doing the right thing is what it really means to be a follower of Jesus. How can you stand up for those who are unable to stand up for themselves.
Task:  Can you create one of your own beatitudes?  Who do you think is blessed and deserves recognition? There are some examples below.  You can use one of these or create your own.
Design a poster if your beatitude, make it as colourful as possible.  send your poster to Vicki at [email protected]
We end by making the Sign of the Cross.
We start with the Sign of the Cross.
This season of Easter-tide is all about celebrating the Resurrection and celebrating all of the things that God has given us. God was willing to give His only Son to us and He suffered a painful death to free us from sin.
There is a lot to be grateful for when we know that we are cared for and loved so deeply!
In these difficult times it can be easy to focus on the things that are going wrong, so this morning spend some time reflecting on the things that you are grateful for in your own life.
What brings you joy that you are thankful?

Are there things that you take for granted?

Do the important people in your life know that they are appreciated?

How often do you take the time to stop and thank someone for their time and effort towards you?
It is scientifically proven that saying thank you and showing gratitude makes you happier. Everyone of us has something to be grateful for! Write down somewhere, five things that you are grateful for…if some of these things are people make sure that you thank them! You can do this in person if you live with that person or you could send them a nice message telling them why you are thankful for them.
Use the comments box below to give a shout out to the people that you are grateful for and want to say thank you to. Make this an opportunity to thank and give praise to God just as St Paul describes:
I thank my God for you every time I think of you

Philippians 1:3
Have some time in quiet prayer talking to God. Offer up all things you wrote down or thought of that are thankful for in prayer.
You are the resurrection- CAFOD Prayer
How wonderful, Lord Jesus, you came back
You suffered death but conquered it
You laid in the tomb but on the third day
You rose again
O joyful day, Lord Jesus, when you returned
You are the resurrection, our hope and our life
O glorious and victorious Redeemer
Help us not to be afraid of death
For we must pass through it to see you face to face
And on the last day we will rise again
For you said so
Let us rejoice and praise you
Our Blessed and triumphant Lord
On this happy, joyful feast.
Amen.
Diana Ng-Sutherland/CAFOD
We end with the Sign of the Cross.
We start with the Sign of the Cross.
Draw Us Forth
Draw us forth, God of all creation.
Draw us forward and away from limited certainty
into the world of your love.
Give us the capacity to even for a moment
taste the richness of the feast you give us.
Give us the peace to live with uncertainty,
with questions,
with doubts.
Help us to experience the resurrection anew
with open wonder and an increasing ability
to see you in the people of Easter.
Amen
Today we are going to create a five finger prayer.  Look at the picture below to show you what each finger should represent.
Draw around your hand, you can write your prayers either inside or outside your hand.  Take a photo of your work and send it to Vicki: [email protected]
We end with the Sign of the Cross.
We start with the Sign of the Cross.
Happy St. George's Day!
St George's Day is celebrated on 23rd April each year. It's a great excuse to enjoy or learn about some of England's customs and traditions, and also to think about knights and castles and dragons!
It's also a good time to think about one of England's most famous men, William Shakespeare, who was not only born on 23rd April 1564 but also died on 23rd April 1616.
"Cry God for Harry, England and Saint George!" William Shakespeare (Henry V)
Here's a fun paper weaving activity that you can try, to dress the table in patriotic fashion for St George's Day!
You will need:
A sheet of white card
Red paper
Instructions:
Fold the card in half lengthways. Cut long lines in the card about 1 inch apart and about 1 inch from the edge of the card.
Cut the paper into strips about 1 inch wide. Take a strip of paper and pass it under the card and then up through the first slit, down through the second and back up through the third and so on until you reach the other side of the card. Push it up so it sits as close to the top of the red card as it can reach. Repeat with a second strip of paper, starting the other way, down through the first slit and up through the second and so on. Keep weaving until the card is full.
Make a lovely textural St George's Day flag with some tissue paper scrunching and sticking – great fun!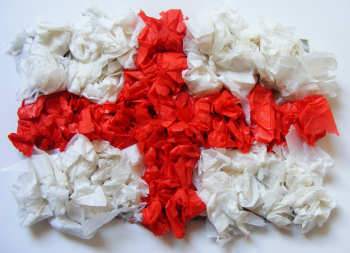 You will need:
Card
PVA (white) glue
White and red tissue paper
Instructions:
Draw a cross on the card. Paint the card with a coat of glue. Rip up the tissue paper into small squares and scrunch into balls. Stick the red tissue paper onto the cross. Fill the rest of the card with the white. Display your flag proudly for St George's Day.
A gorgeous craft for St George's Day!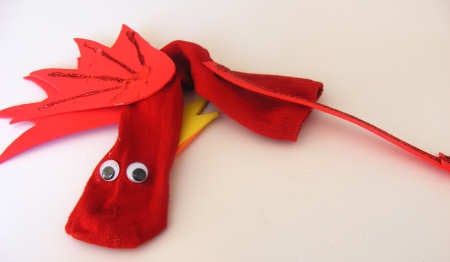 You will need:
A red sock
Red craft foam
Scraps of red, yellow and orange craft foam
Red glitter glue
Fabric glue
Wiggle eyes
Fabric pen
Instructions:
Cut two wings and a tail from red craft foam. Decorate with the glitter glue.
Put the sock over your hand and mark where you want the eyes, wings and tail to go. Now lay the sock flat and glue on the tail, wings and eyes.
While this is drying make your flames by cutting out a flame shape from yellow foam, a slightly smaller one from orange foam and an even smaller one from yellow foam. Glue them together in a pile.
Put on the sock puppet, using your thumb as the lower part of the mouth, and mark where the flames will go.
Take off the puppet and glue on the flames. These will need to face the back of the sock so that they turn the right way around when you put in your thumb. See photo for clarification.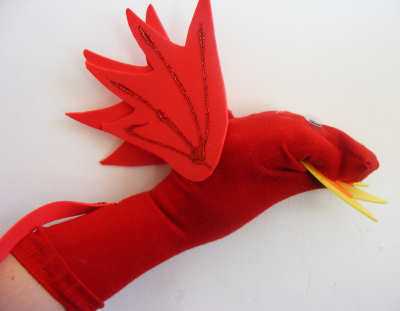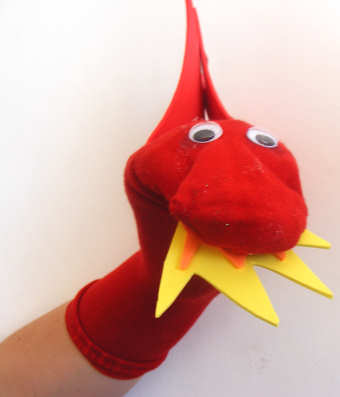 We start with the Sign of the Cross.
Every Wednesday The Briars Youth Service are leading us through a series called 'Making sense of it all'.
During this uncertain time, it can be easy to get worked up and anxious about what is happening in the world. This is completely natural. Now we have just entered the season of Easter which is all about being joyful and giving praise and thanks to the Lord- how can we marry these two emotions together?
Watch the video below and think about how we can find joy in these difficult circumstances?
As Christians, as how can we be the joy and hope in other people's lives who are struggling and can't find joy?
Although our routines and where we spend our time are very different, we are still the same people and we have the same needs to keep connected with one another, to love and look after one another.
Just because we aren't in Church doesn't mean that we cannot be the Church in our homes and just because we aren't in school, doesn't mean that we cannot carry The All Saints' Way into everything we do in our homes.
Think about how you can bring joy to someones life today or for the rest of the week. This doesn't have to be something enormous, sometimes the small acts of kindness can bring about the most joy.
Lord Jesus,
when you walked with us on earth
you spread your healing power.
We place in your loving care
all who are affected by Coronavirus.
Keep us strong in faith, hope and love.
Bring relief to our sick,
console our bereaved,
protect those who care for us.
We lift our prayer to you Lord,
and trust in your infinite mercy,
as we wait for the daybreak.
Amen.
We end with the Sign of the Cross.
We start with the Sign of the Cross.
Every week Issie (Lay chaplain at Trinity and Catherine McAuley Hub) is going to teach you a new song!
We end with the Sign of the Cross.